SimpleStow
Container Stowage
SimpleStow provides variety of stowage planning tools and methods intended for specific types of cargo and operational requirements. There are two distinctive ways how the user can get containers in the bay plan in SimpleStow:
Stowage From the Cargo List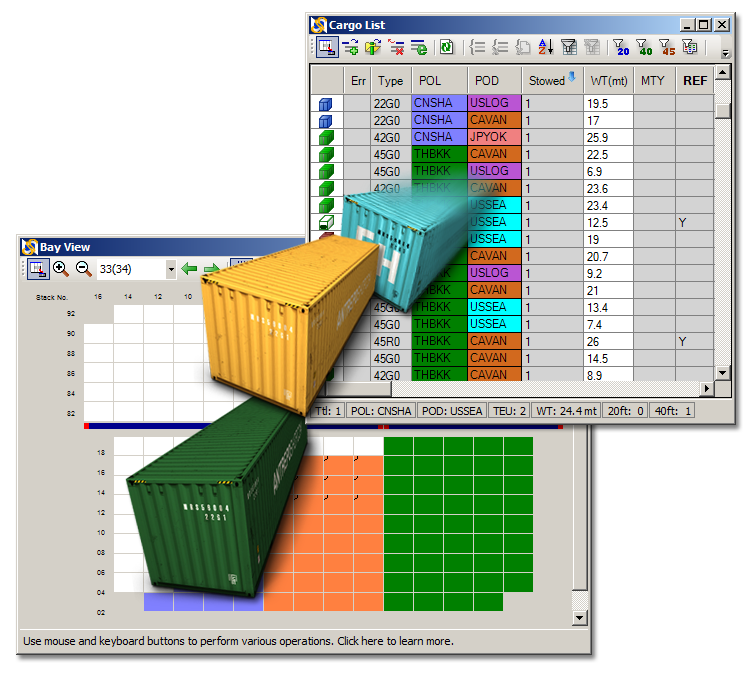 That group of methods is most suitable for preliminary stowage planning. However it can be used for final planning as well.
First the user enters containers data in the Cargo List. He can do that either entering container data manually, or importing from a structured text file.
Then the containers can be moved from the Cargo List in to the bay plan using various stowage methods:
with one click stow one container or a selected group of containers one at a time;
drag-and-drop a group of containers in the selected cells;
drag-and-drop a group of containers in a selected bay and let the program distribute them in appropriate cells;
stow multiple under-height containers (flat racks) in one cell.
Direct Stowage in Bay Plan
These methods are primarily intended to follow up the actual process of cargo stowage to create a final plan on ship's departure. However they may be efficiently used for rough preliminary planning as well.
The essence of these methods is that the user enters cargo data directly in the selected cells, and the program automatically creates the respective entries in the Cargo List.
With this method the user can stow not only containers, but outline the cells occupied by break bulk and project cargoes as well.
Stowage Rules
The user can select a random group of containers to stow, mixing containers of different types that have different ports of load and discharge. When stowing multiple containers in bulk SimpleStow automatically sorts the containers by ports and type, and determines exact position for each container following the pre-set stowage rules.
Stowage Conflicts Check
SimpleStow has a built in Stowage Conflicts Checking Routine. Its purpose is to prevent inconsistencies in stowage plan that contradict fundamental rules and concepts of container stowage, detect possible problematic stowage arrangements and warn the user about them.
In the background the program automatically monitors for possible stowage problems in all ports throughout the entire voyage. If a problem will arise in earlier or later ports, the user will be notified.
The program visually indicates all the detected conflicts in the bay plan and in the respective ports in the Port Rotation bar with the alarm sign.
Some of the non-critical conflicts the user may cause consciously by purpose. He may either have no other option and must stow containers like that in given circumstances, or that is just an intermediate plan in working and the user knows that the conflicts will be resolved later when he will place additional containers or change stowage arrangements.
The user has flexibility to instruct SimpleStow to ignore certain types of conflicts and don't show the alarms when they occur.