SimpleStow
User Interface
The main graphical elements of the SimpleStow user interface include several windows: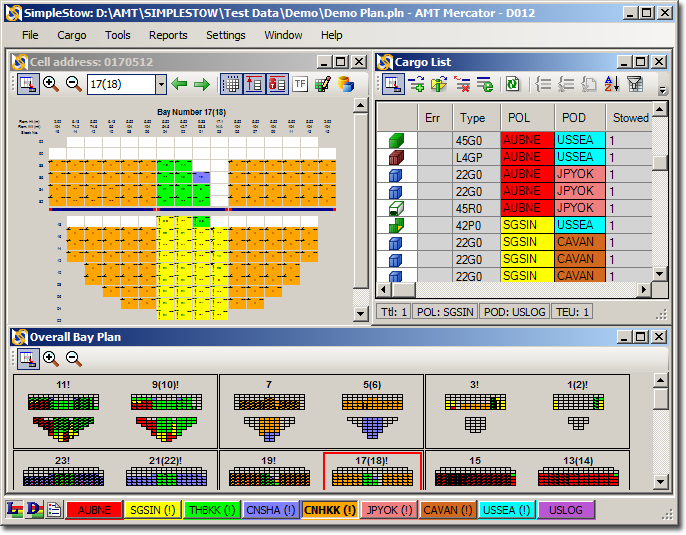 Detailed view of a single selected bay,
Overall bay plan or scan plan,
Cargo List in the tabular form,
Port Rotation bar.
You can resize the program's main window, resize and re-arrange child windows within the main window, undock child windows and move them outside the boundaries of the main window to the second monitor (if available).
Cells occupied by containers in the bay plan are painted in colors of Port of Load or Discharge. You can select what container properties and in what format to show in the bay plan and what color coding scheme to apply.
Positions of hatch covers are clearly indicated and taken in to consideration when determining possible overstowage.
In the bay view you can instantly bring to display or hide reference information such as cell type, stack weight, stack height and margins.
Presentation of data in the Cargo List is enhanced by the icons graphically depicting container class and type. Ports of load and discharge are highlighted in designated colors for easy visual identification.
Additional service windows and forms can be opened on the user's request to perform various operations.
The program interface features easy to use and intuitive commands presented in the form of menus and tool buttons. The most complex operations in the program are supported by wizards that lead the user step-by-step through the process.
The program is very intuitive and well documented. The detailed, to the point, help is accessible from all SimpleStow windows and dialogs.