Stability Software
SPS for RoRo Cargo
For RoRo ships SPS utilizes the same graphical user interface as for breakbulk cargo planning on multipurpose ships. However lots of consideration has been given to practical aspects of planning stowage of cars and other roll-on and -off machinery.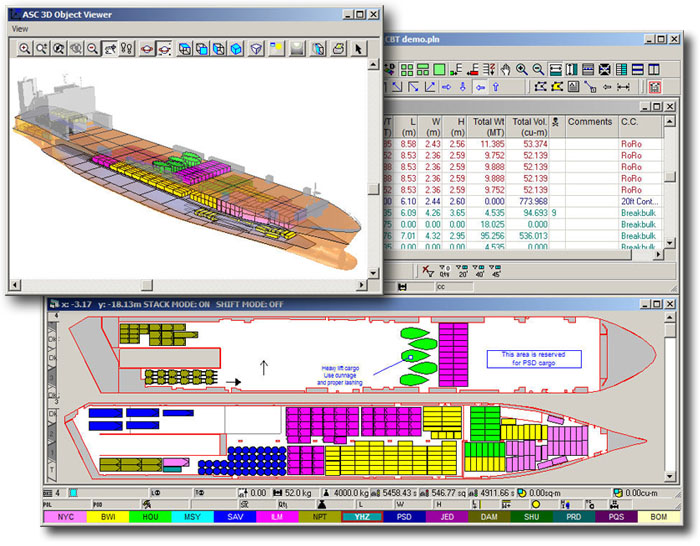 SPS differentiates categories of RoRo cargo such as Cars, High-sided Vehicles, High & Heavy cargo, etc.
The cargo can be stowed on fixed decks, hoistable panels and on or below ramps. SPS checks actual height and weight limitations as well as axle weight limits.
Very important in RoRo ship planning is the task of setting up positions of car-deck panels. Efficient aid for that in SPS is the "Space Plan" - a bar graph diagram that helps the user to visually optimize the ship's layout for the upcoming voyage, positioning the movable deck panels to best accommodate given combination of different cargo classes.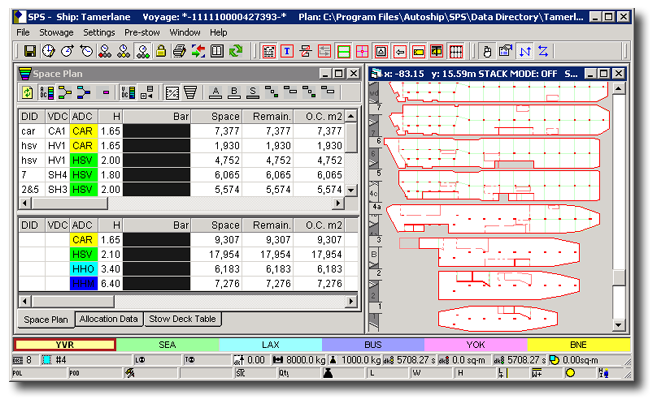 For mass stowage of cars there are special stowage planning functions available. Stowage patterns and "flow-stow" rules allow, with one click of a button, to instantly allocate and line-up hundreds of cars on the entire deck or in the selected area of the deck, following pre-defined rules and taking in to account various factors such as proximity and orientation of bulkheads and obstacles, side of steering gear, required parking gear, allowable distance from bumper to bumper and between doors, etc.
SPS provides means to combine different items on a piece of standard equipment such as roll-trailer, bolster, flatrack before stowing it on the deck. The geometry and default parked positions of ship's loading equipment (forklifts, tugs, etc.) that are not a part of freight can be preconfigured to mark reserved space and be accounted for in stability estimations.
With SPS integrated with the company's information system the user can start planning a ship long before her arrival in the region based on the preliminary cargo estimates. Gradually, as the ship approaches the first load port in the region, the rough plan can be converted in to more precise one as more detailed cargo information becomes available.
SPS can be linked to the Autoload hydrostatic module making it perfect specialized RoRo loading computer software for both on board and office use.
The Summary of Key Functions
Virtual stowage planning desktop;
Plan the entire voyage and instantly switch from one port condition to another;
Overall graphical deck plan and 3D detailed views;
Special tool to optimise positions of movable panels and ramps for every port;
Special stowage planning methods for various cargo classes;
Simple drag-and-drop function to stow, move and rotate cargo;
Ability to stack cargo vertically;
Graphical rendering of block- and odd-shaped project cargo on plans;
Summary information about utilization of decks weight capacity, area and volume;
Advanced stowage rules and limitations checks;
Searchable Cargo List with color-coding of different cargo classes;
Tracking of stowage position(s) of cargo on decks;
Manual input of cargo data;
EDI with in-house information system;
Ability to plan cargo shifting or re-stow in intermediate ports;
Graphical tools to enhance stowage plan with lines, symbols and comments;
Various formats of stowage plan and cargo data reports;
Real-time feedback of stability parameters and floating status from Autoload, the hydrostatic module.
Contact us for more information and to schedule a live demonstration.