Stability Software
Autoload Tanker
Autoload is a versatile loading computer software that can be configured for tasks specific to tanker operations.
On top of generic functionality available for all ships Autoload provides additional practical and useful tank and liquid cargo management features.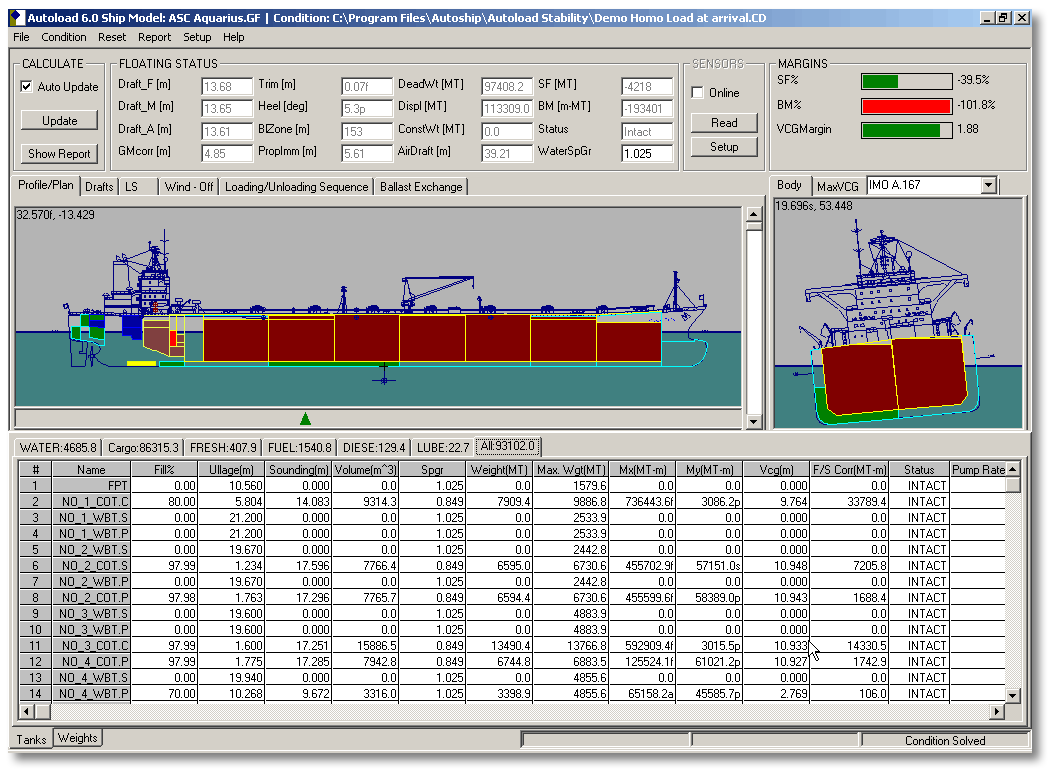 Combining both the tanker and the bulk carrier functionality in one application Autoload is a perfect loading computer software for OBO ships.
Cargo Tanks

On the separate Cargo tank tab the user can enter, monitor and edit parameters specific to cargo operations with crude oil and petroleum products. That includes:
Ullage;
API gravity at 60F;
Temperature;
Volume correction factor;
Volume in barrels;
Pump rate

Cargo grade for each tank can be selected by name from the expandable list of frequently carried cargoes. That instantly brings up cargo properties such as API gravity and VCF.
Changing temperature of cargo in the table automatically updates its API gravity, VCF and the dependent parameters.
Autoload uses absolutely accurate methods of determining cargo quantities that are based on the exact 3-dimensional geometry of tanks and take in to account current ship's heel and trim.
Tanks with the same cargo are automatically grouped and presented with secondary tabs on the right side of the table. Totals of different grades of cargo are shown on these tabs. With that function the user can effectively monitor and manage OBQ of various grades of crude and products on board.
Cargo Database
Autoload provides facility where the user can enter and edit properties of frequently carried cargoes:
Name;
Type of cargo - Crude Oil or Generalized Products;
API Gravity or Density at standard temperature;
For non-petroleum products a range of VCFs at different temperatures.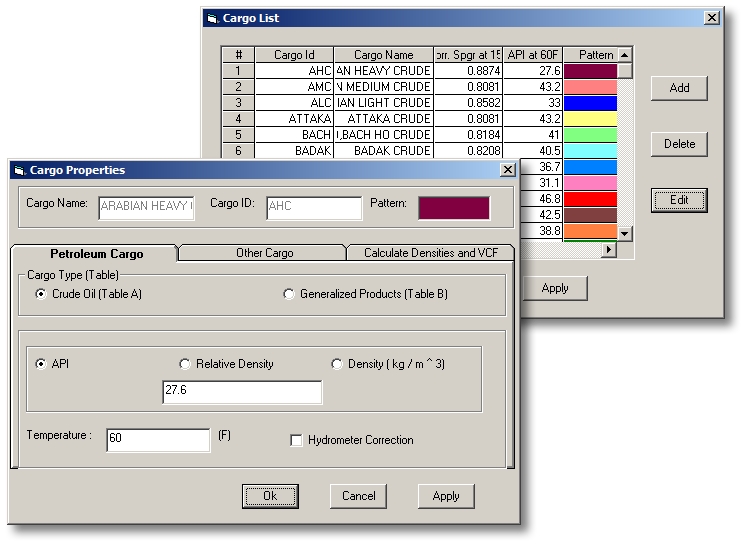 The user doesn't need to remember what tables to use for cargo calculations. It only takes selecting the name of cargo for a tank in the Tanks Table. Then Autoload uses genuine ASTM formulae to accurately determine VCF of crude oil and petroleum products at observed temperature and all the related parameters.
Ullage Survey
The Ullage Survey dialog in Autoload is fast and practical function to determine OBQ and quantity of delivered cargo. With minimal user input, which includes ullage, observed temperature and water dip, the program instantly calculates accurate quantities of cargo in tanks based on cargo properties, taking in to account current trim and heel of the vessel. The final numbers can be adjusted applying Vessel Experience Factor.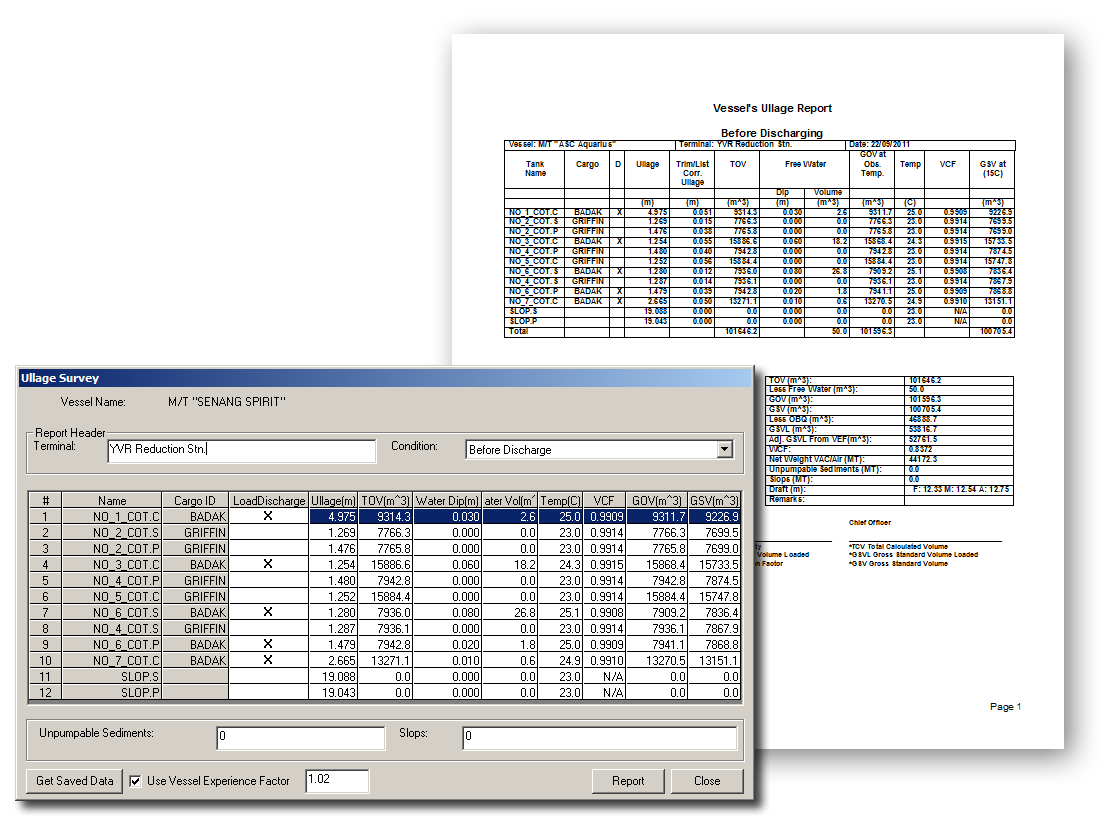 With one button click the user can generate signature-ready detailed Ullage Survey report in the commonly adopted format.
Reports
The variety of standard and custom reports is available in a common electronic format. That includes, but not limited to:
Floating status;
Loading Summary;
Stability reports (intact, damage, severe wind);
Longitudinal Strength;
Loading Sequence with time estimate;
Ullage Survey report.
Key Features
Entry of tank contents by weight, volume, ullage, and sounding with automatic heel and trim corrections
Monitor VCF and pump rate;
Enter/edit API gravity and temperature of cargo;
Calculations of API gravity and volume expansion are based on the original ASTM formulae;
Expandable cargo database containing characteristics of crude oil and petroleum products;
Ullage Survey functionality and report;
Water dip is accounted for in the Ullage Survey;
Grouping tanks by grades of cargo;
Loading and ballast exchange sequence;
Autoballast function to bring the ship on desired drafts;
Intact stability calculations;
Direct damage stability assessment;
Drafts at perpendiculars and draft marks;
Calculations of predicted and observed deflection;
Longitudinal and local strength calculations including bulkhead correction;
Switch between Metric and Imperial measurement systems;
Volumes in cu.m, cu.ft, barrels and gallons;
Temperature in Celsius and Fahrenheit;
Connection to tank and draft sensors

Contact us for more information and to schedule a live demonstration of Autoload.